I knew I stumbled across something cool. In the past, I would have just acknowledged it and then proceeded to continue on my walk. But I pulled out my iPhone and my trusty VSCO app and snapped a couple photos.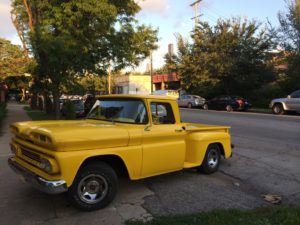 I tried editing this photo every way from Sunday and still couldn't get it to look right. From manual adjustments to using nearly every VSCO preset, nothing could shape the same dreamy look the truck had in the early evening hours on August 31, 2014.
Enter Snapseed.
Recently, I have been editing a lot of photos with Snapseed. I created some really powerful images, especially with some golf courses photos that are usually pretty flat.
I hunted down the photo above and started editing. Much like when I was experimenting with Garageband in my early days as a wannabe musician, I dial effects up to 11 and slowly work them back towards normal. I did the same thing here, but 11 is just what this photo required.