I'm going to date myself and this post. It will be a strange little time capsule living forever on the Internet.
Today, Instagram launched Stories,which at the moment feels very much like Snapchat. It's the shiny, new toy, and I felt strangely ashamed to post my photo of the day to my account.
I made a commitment to make a daily post here on my blog and on Instagram. This started officially on August 1. As platforms continue to grow and change, it shows why a blog is so important. Here I get to dictate the rules.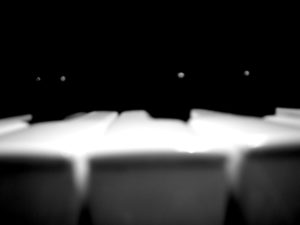 Now, let's get to the photo of the day. This beautiful, black and white closeup of piano keys holds a special place in my heart.
I had a disposable camera left over from a high school dance (crazy how that was a thing). With a few pictures remaining on the roll, I took some silly shots around the house.
I distinctly remember sitting on the piano bench with a few photos left. I looked down at the keys and said to myself, "Hey, why not?"
After I got the photos developed at Jewel, I sorted through them and happily discovered this gem.
I'm not sure if it was years, weeks, or just days later, but I needed to choose album art for an early self-published album. In order to use the picture, I scanned the print and uploaded it to a Compaq computer.
Next, I believe I edited it in MS Paint and uploaded it to a program that allowed you to print CD cases covers at home.
It's truly amazing how far we've come. It's a little sad that it's rare to capture a beautiful accident these days. But at least we can take family pictures until we can get one with almost everyone's eyes open.